Skip to Main Content
It looks like you're using Internet Explorer 11 or older. This website works best with modern browsers such as the latest versions of Chrome, Firefox, Safari, and Edge. If you continue with this browser, you may see unexpected results.
Research Based, Potential Medicinal Uses of Other Cannabinoids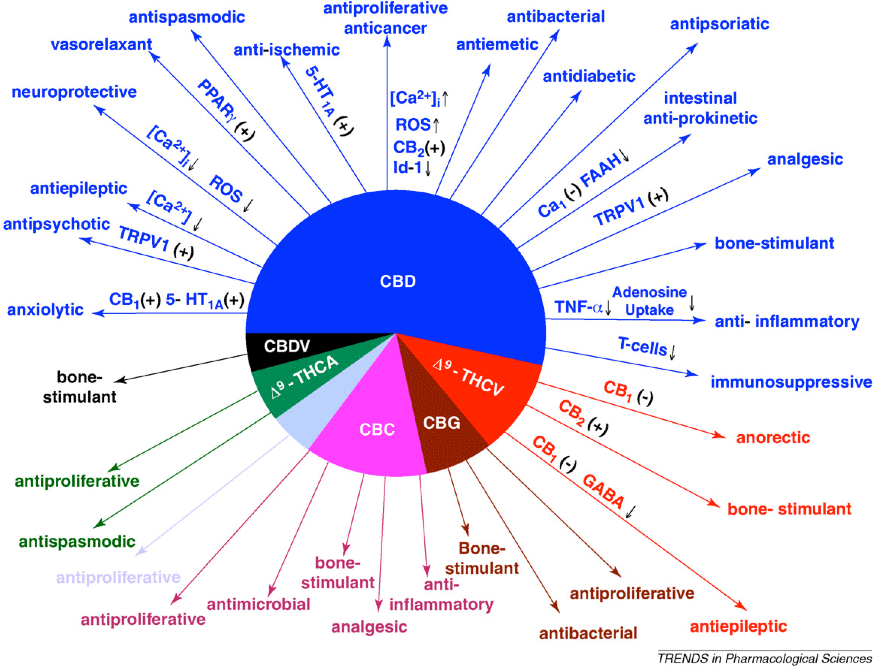 Abbreviations: CBN, cannabinol; CBD, cannabidiol; D9-THCV, D9-tetrahydrocannabivarin; CBC, cannabichromene; CBG, cannabigerol; D9-THCA, D9-tetrahydrocannabinolic acid; TRPV1, transient receptor potential vanilloid type 1; PPARg, peroxisome proliferator-activated receptor g; ROS, reactive oxygen species; 5-HT1A, 5-hydroxytryptamine receptor subtype 1A; FAAH, fatty acid amide hydrolase. (+), direct or indirect activation; ↑, increase; ↓, decrease.
Source: Izzo AA, Borrelli F, Capasso R, et al. (2009). Non-psychotropic plant cannabinoids: New therapeutic opportunities from an ancient herb. Trends in Pharmacological Sciences 30(10):515–27.
Earlenbaugh, E. (2021, October 18). Cannabinoids and their effects. The Cannigma. Retrieved from https://cannigma.com/plant/cannabinoids-and-their-effects/